MIGRATE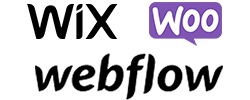 Migrate
Existing Ecommerce Platform to Shopify
Money back guarantee
Quick turn around
Post delivery support
Our ecommerce migration Engineers fully understand the nitty gritty of safe migration process. Our migration experts ensure the seamless migration without losing any important data e.g. Products, customers, catalogue/collections. Share your Migration Project today.
GET QUOTE

Service Overview
Migration from one ecommerce platform to another is always tricky and involves a lot of measures to ensure zero to minimum downtime and zero content loss. Every Ecommerce platform has different content storage, different URL structure and different Database schemas. These difference make the migration complex and labor intensive because each and every functions need to be taken into consideration. The expertise of both platform (Existing platform and the one we are planning to migrate) is also mandatory for a successful transition.

It is also very important to set the right expectations because each platform has different ways to offer certain feature. For example, in one platform one plugin is free while the other platform is offering the same feature with an additional price.

With so many migration projects under our belt we have dedicated team available to understand your existing business, list down your requirement and submit a workable migration plan and work round the clock to ensure your business is migrated successfully with zero content loss and minimum downtime.
Pure Shopify
100% focus on shopify
10+ years of shopify experience
Large list of Happy Customers
Project Management
Quick Turn around
Professional Communication
Regular updates on your project
Professional Team
Creative and Vibrant Design team
Full Stack Developers
Shopify Liquid experts
Supported Ecommerce Platforms for Migration
Migration from Magento to Shopify
Migration from Prestashop to Shopify
Migration from WooCommerce to Shopify
Migration from OpenCart to Shopify
Migration from Weebly to Shopify
Migration from ZenCart to Shopify
Migration from Wix to Shopify
Migration from SquareSpace to Shopify
Migration from Webflow to Shopify
Migration from Figma to Shopify
Migration from Page builder to Shopify
Migration from Yondo to Shopify
Migration Service Highlights
Seamless Migration from Existing Ecommerce Platform to Shopify
Smooth content Transfer which include:
Cloning your existing design into Shopify
Product Transfers
Product Collections/Categories migration
Customer Information and Profiles
Orders
Customized Feature Development
Relevant App Installation and Configurations
How it Works
We will build the Shopify store in our development environment so that your business remains upand running while we work on migration
Once done from our side, we will submit the Shopify store for your approval.
Apply changes and revisions if there is any
Deliver the store and transfer the ownership